Máire ní chathasaigh and chris newman - live in the highlands
---
Máire also works with the Choir of New College, Oxford and the New English Chamber Orchestra , and she also appeared on the film Driftwood . Among other musicians, she has worked with Celtic pioneer Dan Ar Braz .
A stunning new album from the "celebrated virtuoso partnership" of Máire Ní Chathasaigh, "the greatest Celtic harper of our age" (Live Ireland) and Irish Traditional Musician of the Year 2001, and Chris Newman, "one of the UK's most staggering and influential acoustic guitarists" (fRoots).

The aptly-named release is an addictive and stylish cocktail of powerhouse Irish dance-music, gorgeous airs, old songs with a contemporary twist and striking new compositions - with a shot of bluegrass thrown in. From the very first notes of the opening track, the sizzling guitar improvisations and harp pyrotechnics come thick and fast! A perfect showcase for their unique sound.

Máire (Irish harp, vocals), Chris (acoustic and electric guitars, mandolins, electric and fretless bass). Guest Musicians: Máire's extraordinary fiddle-playing sister Nollaig Casey, Grammy Award-winning American banjo-player Cathy Fink and drummer/percussionist Roy Whyke.

What the critics have said of their previous albums: "Virtuosic, fascinating, dramatic, original, inspired, gloriously adventurous, dazzling, brilliant, stunning, impassioned, electrifying, bewitching, moving, achingly beautiful, influential, revered, unique." - The Times, The Daily Telegraph, The Guardian, The Irish Times, The Scotsman, fRoots.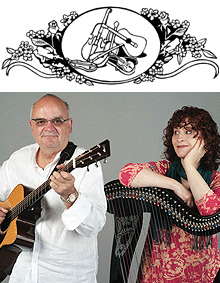 hljms.aotn.us